Village A-Z
This page provides information about many of the essential day to day services available in the village, sorted alphabetically. If you can't find what you're looking for here, try browsing the other pages in the Community and About Ruddington sections of the website.
Allotments
There are various allotments within the village. They are a very popular pastime and are well-used.
You can also find information about the allotments at the Ruddington Gardeners' Association website.
Banks & Building Societies
See also Cash Machines.
Post Office, 4 High Street – Open Monday to Friday from 8:30am to 5.30pm and Saturday from 9:30am to 5.30pm
Branches of various banks and building societies can be found in West Bridgford.
Bin collections
See Waste & Recycling below.
Care homes
See also Sheltered Housing, Dementia Care and Home Care.
Balmore Country House, 247 Loughborough Road. Tel: 0115 921 3006.
Orchard House, 46 Easthorpe Street. Tel: 0115 921 7610.
St. Peter's Rest Home, 15 Vicarage Lane. Tel: 0115 984 4608.
All the above homes are part of the MYCare group and all cater for residential, nursing and dementia care. Call 01773 811 453 or visit the MYCare website for details.
Car Parks
See Cars & Parking page.
Cash Machines
There are currently 4 cash machines (ATMs) in the village:
Outside the Post Office on High Street
Outside the Co-op supermarket on Church Street
Inside Spar supermarket on Dutton's Hill
On the forecourt at the Esso petrol station on Loughborough Road
Cemeteries
Flawford Churchyard – Located on Flawforth Lane, this is the previous site of the Anglican Church and has not been used as a cemetery for centuries. It is owned by St Peter's Church and managed by the Parish Council under a cancellable lease agreement.
Shaw Street Cemetery – Located at the end of Shaw Street and accessible from Vicarage Lane Cemetery. This is owned and managed by Rushcliffe Borough Council and the residents of the village are levied a special charge on their council tax to cover maintenance costs. The cemetery is the final resting place of three survivors of the Battle of Rorke's Drift in 1879.
St. Peter's Churchyard – Located around St. Peter's Church on Church Street. This is a closed churchyard and is under the control of the Parish Council, making us responsible for the trees, railings and the safety of the memorials.
Vicarage Lane Cemetery (pictured) – Located at the end of Vicarage Lane. Formally operated by the Church, this has been under the ownership and control of the Parish Council for a number of years and represents the only effective open cemetery in the village. Burials can be arranged through any local undertaker. (Note that the local crematorium at Wilford Hill is managed by Nottingham City Council).

.
Childminders
See also Pre-schools & Nurseries.
We have several Ofsted registered child minders in the village. Please contact the Vacancy Secretary for Ruddington Childminding Group, Jenny Daxter, on 07483838734; Email daxterjennifer@gmail.com for further details.
Churches
See Places of Worship below.
Cleanliness
See also Dog fouling and Waste & Recycling.
We're all responsible for maintaining the appearance of our village and numerous bins are provided around Ruddington for the disposal of waste such as sweet wrappers, empty drinks cans etc (NOT household waste). Some of these bins are segregated into general waste and recyclable items.
Our designated Streetwise team, provided by Rushcliffe Borough Council, work hard to keep our village clean, so please dispose of your waste responsibly when you're out and about. You can find out more about Streetwise and the services they provide at the Borough Council website.
Dementia Care
Mae Care Ltd, 4 Easthorpe Street (Also home to Bloomin' Dementia)
Tel: 0115 921 5921. Website: www.maecare.co.uk.
Dentists
Ruddington Dental Practice, 89 Wilford Road
Tel 0115 984 8024. Website: www.ruddingtondental.co.uk.
Doctors
Dog fouling
Dog bins are situated at various locations around the village and are emptied by Rushcliffe Borough Council. Note that red bins are for the disposal of dog waste only, whilst black bins can be used for general waste as well. Look for the wording on the bin if you're not sure.
NOTE: Dog Owners – please remember that it is an offence not to clean up after your dog. Fouling carries a spot fine of £50 and a fine of up to £1,000 on prosecution. So don't forget your bag and poop scoop.
You can report dog fouling at the Rushcliffe Borough Council website, or by calling Rushcliffe Borough Council on 0115 981 9911.
GPs
See Doctors above.
Home Care
Rainbow Care Services Ltd, 2A Kempson Court.
Tel: 0115 921 2555
Job Search Services
Website: www.jobcentrenearme.com
Library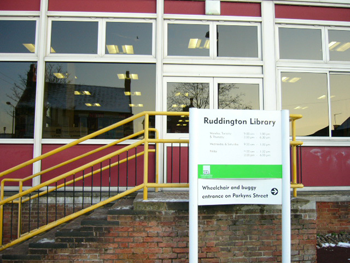 Church Street. Tel: 0115 921 2309.
Fax: 0115 921 2309.
Email: ruddington.library@inspireculture.org.uk.
Website: www.inspireculture.org.uk/reading-information/find-a-library/ruddington-library/
Opening times:
Please visit the library's website as these can vary.
Access details
Outside access: steps to main entrance, side entrance ramped
Inside access: level in adult areas – steps and lift to children's library
Services
Books in other languages
Newspapers and magazines
Parents' collection
Talking books
Information on local colleges, events etc
Fax & photocopier
Computers
The library stocks large print versions of the Village Newsletter.
Market
A monthly village market held on the first Saturday of each month on The Green. Stalls offering quality crafts, produce and provisions to take away. Plus performances from local talent and much more! Find out more at our Ruddington Village Market web page or at the dedicated market website, www.ruddingtonvillagemarket.co.uk.
Opticians
Amanda Finlay Opticians
The Coach House, 1A Charles Street
Tel 0115 921 2992. Website: www.amandafinlayopticians.co.uk.
Places of Worship
Baptist Church 
Meets every Sunday 10.30am at St Peter's Rooms.
Weekday contact: The Hub, 62 Musters Road – Tel 0115 984 6833
For more information visit www.ruddingtonbaptist.org.uk
Ruddington Methodist Church, Church Street.
Contact the Reverend Nichola Jones on 0115 914 3794.
Services every Sunday morning 10.30am (includes Junior Church) & 1st & 3rd Sunday evening at 6pm. All welcome.

St Peter's C of E Church, Church Street (pictured)
The Reverend Andrew Buchanan. Tel 0115 928 4522.
Visit www.stpeters-ruddington.org for details and times of church services, and to find contact details for the Leadership Team.

Police
See the Policing page.
Post Office
4-6 High Street. Tel 0115 984 2782. Open Monday to Friday from 9am to 5.30pm and Saturday from 9am to 1pm.
Post Office services include:
Bureau de Change

Pay Point Service

Stationery supplies / greetings cards

Lottery terminal
Post Boxes are located at the following points:
Outside the Co-op on Church Street

Wilford Road by the Village Hall

Junction of Moor Lane and Elms Park

Junction of Musters Road and Sandhurst Drive
Kirk Lane (near traffic lights)
Junction of Rufford Road and Ashworth Avenue
Clifton Lane near junction with Churchill Drive

Landmere Lane near junction with Old Road
Pre-schools & Nurseries
See also James Peacock Infant & Nursery School in Schools.
Ruddington Day Nursery, Grange House, Wilford Road
Tel 0115 984 8125. Website: www.rushcliffedaynurseries.co.uk.
Open all year round with full day care.
Ages from 6 weeks to 5 years.
Cherubs Day Nursery, 163 Loughborough Road
Tel 0115 984 7432. Website: www.cherubsnurseries.co.uk.
Open all year round with full day care.
Ages from 6 weeks to 5 years.
The Hermitage Pre-School, Wilford Road
Tel 07923 487030. Website: www.thehermitagepreschool.co.uk.
Open Monday to Friday from 9am to 12 noon during term time only.
Ages 2 to 5 years.
Schools
The village has both a Local Authority Nursery & Infant School and a Junior School. Children have to leave the village to attend secondary school and designated school transport is available.
James Peacock Infant & Nursery School, Manor Park
Tel 0115 914 4225. Website: www.jamespeacock.org.uk.
Head: Mr Richard Waldron
Ages 3 – 7 years
Email: office@jamespeacock.notts.sch.uk
St. Peter's C of E Junior School, Ashworth Avenue
Tel 0115 974 3303. Website: www.stpetersjunior.org.uk.
Head: Mr Bradley
Ages 7 – 11 years
Email: office@st-peters-jun.notts.sch.uk
Rushcliffe Spencer Academy, Boundary Road, West Bridgford
Tel 0115 974 4050. Website: www.rushcliffe-school.co.uk.
Primcipal: Mr D Painton
Ages 11 – 18 years

South Wolds Academy & Sixth Form, Church Drive, Keyworth
Tel: 0115 937 3506. Website: www.southwolds.co.uk.
Head: Halina Angus
Ages 11 – 18 years
West Bridgford School, Loughborough Road, West Bridgford
Tel: 0115 974 4488. Website: www.wbs.eu.com.
Head: Mr Tim Peacock
Ages 11 – 18 years
Sheltered Housing
See also Care Homes.
Peartree Orchard, Easthorpe Street
Tel 0115 915 2222
Shrimpton Court, Elms Park
Tel 0345 60 20 540
Venues for Hire
See our Venue Hire section.
Vets
Ruddington Vets, 2 Shaw Street
Tel 0115 921 2155. Website: www.ruddingtonvets.co.uk.
Waste & recycling
See also Cleanliness.
All properties in the village have recycling bins with normal households having 3 bins:
Grey for household waste.
Green for garden waste. (There is an annual charge for green bins.)
Blue for dry recyclables (NOT glass*).
Waste collection services in the village are managed by Rushcliffe Borough Council. You'll find everything you need to know by visiting their website, including collection day calendars, green bin costs and what can and can't be recycled in your blue bin. Or, you can call 0115 981 9911 for information.
* You can recycle glass using the bins in the Church Street car park or the Recycling Centre on Asher Lane. Please be considerate to your fellow residents and don't recycle glass too early in the morning!
Wheelchairs
The Parish Council has a small selection of wheelchairs which are available for short term hire. There is no charge to residents. To hire one, please contact the Parish Council Office on 0115 914 6660. Please also let us know if you have a wheelchair or walking aid which you no longer require and would like to donate to help other residents get around.

DISCLAIMER: Although every effort has been made to ensure the accuracy of the information in this guide, Ruddington Parish Council cannot accept responsibility for any inaccuracies or omissions and does not endorse any service, business or organisation.